Tips To Help 1st Trimester Upset Stomach During Pregnancy.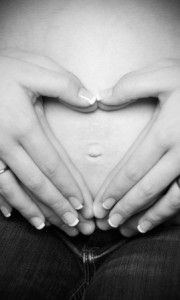 So you might have found out that you were pregnant just a few weeks or days ago, but you may already be feeling the constant nausea that many women experience throughout their first trimester.
Here are some simple tips you can do to make1st trimester pregnancy more tolerable:
Eat Regularly: Eat every 1-2 hours throughout the day…even if you don't feel good. Bring snacks with you on the road and to work. An empty stomach will just make things worse, so try to snack constantly…even if the thought of eating makes you sick. Some ideas that aren't too nausea creating are crackers, almonds, string cheese, yogurt, toast, apple, dry cereal, or whatever is appetizing to you at the time.
Ginger: Carry naturally candied Ginger with you at all times, and suck on it when you are not eating. This helps mellow the sick/ nauseas feeling out. You can usually find this product at health food stores.
Sip Tea: Drink peppermint or ginger tea throughout the day. This will also help to calm your stomach.
Order Out: If you can't stand the idea of making food, work out some easy, healthy dinner options for you and your family. Pick up pre-made healthy dishes at your local market and just pop in the oven instead of suffering through the cooking process or opting for fast food every night.
Get Meals To Go in Encinitas &  San Diego:
Jimbo's and Wholefoods has healthy "to go"  hot and cold meal options  also explore.
Trader Joe's also has some healthy options that are tasty. "make sure to look at sodium levels"
Encinitas
Take N Bake: Healthy Creations is a good organic food option. (they also have gluten free)
Restaurants: Naked Cafe, Ki's Restaurant & Swami's Cafe are local healthy favorites.
(note if your visiting SD Fertility Acupuncture from outside of Encinitas you could order ahead and pick it up after your appointment on your way home)
Mild Foods: Stick to bland foods (sorry) but this will help you to avoid sensitive stomach issues at the beginning of your pregnancy.
Balance: Make sure your eating balanced small meals throughout the day. This means meals that have enough protein, iron & calcium in them.
Smells: Avoid strong smells and fried foods.
Relax: Meditation and deep breathing practice can help you to quite your body, help with headaches and dizziness,  plus it will be a useful skill at birth time.
Make sure you are getting enough fluids, especially if you are throwing up throughout the day. It is necessary to stay hydrated during pregnancy.
Make sure to notify your doctor if you are throwing up regularly and can not keep anything down. It is important during your pregnancy to stay hydrated and balanced in your nutrition.